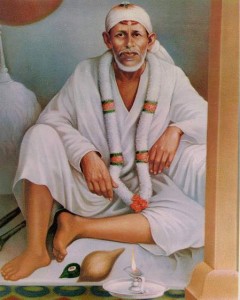 There is a village called Vadgaon near Belgam in Karnataka. Few governor officer camped there. V.H. Thakur a clerk in revenue department was one of them.
He heard about the famous Kannada saint, Appa Maharaj who resided nearby.So he visited the saint, had a darshan, he put his head on the holy feet of Appa Maharaj and received his prasad.
Appa Maharaj was reading a Pothi (sacred book) named 'Vichar-Sagar' by Nischaldas to the devotees. V.H. Thakur gently took a seat and listened to the discourse.
Keep reading the Pothi (Sacred Book) – Appa Maharaj's teaching to V. H. Thakur
When he got up to take the leave, Appa Maharaj joyously said to him,
"So, you may go now. But keep reading this book (Pothi). Remember that by doing so your wishes will be fulfilled. Later on in your life, you will proceed towards north regarding your work.
"On your way due to your good fortune you will meet a great saint. This saint will guide you and bring stability of mind and peace. He Himself will instruct you and imprint His teachings on your mind."
The Journey paved with difficulties and dangers.
Later on he was transferred to Junnar, in Puna district. On the journey it become quite crucial for him to cross over the dreaded Naneghat. Naneghat was notoriously known for its heights, dangers and difficulties on the way.
The hazardous route had only one mean. One could climb it only by riding a he-buffalo. Thus, this unique means of transport a he-buffalo was hired. The back of the buffalo was saddled with cushions on its back, to lessen the difficulties. With great difficulty he mounted this extraordinary vehicle.
Climbing was stiff and dangerous. To add to it, there were the jolts, the jerks and violent oscillations given by the strange vehicle that he rode. His back suffered most painfully as the result. At last the painful journey ended. The business at Junnar was satisfactorily completed.
Good fortune to know about Shirdi Sai Baba from Chandorkar
Then he was transferred to Kalyan where he happen to meet Nana Saheb Chandorkar. Nana Chandorkar according to his pious habit, told many wonderful stories of his Guru, Shri Sai Baba of Shirdi. Listening to this stories his heart felt great joy, his soul yearned to visit Shirdi and see face to face, this wonderful saint of Shirdi. He did got an opportunity quiet quickly. Nanasaheb Chandorkar was going to Shirdi and he said to him, "Let's make this Shirdi trip together. We will both take darshan of Sai Baba, and spend two to three wonderful days and return to Kalyan."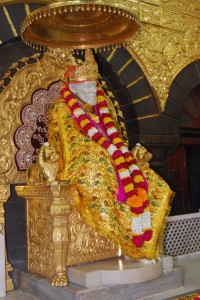 V. H. Thakur was not destined to visit Shirdi and have Sai Baba's darshan in that manner. On the same day of departure for Shirdi, he had to attend a court case. So he dropped the idea of visiting Shirdi with Nanasaheb. Still the immense faith in his Guru Sai Baba that Nanasaheb had, he tried to convince the power of Sai to him. Nanasaheb narrated some experiences of how devotees obstacles and worries were removed, once devotees had developed strong urge for Sai Baba's Darshan. Then he said, "Come without any anxiety, Baba is all-powerful, He will satisfy your desire of having His darshan. The court case does not hold any value compared to it. "
V. H. Thakur did not believe in the words of a faithful devotee of Sai Baba. He said, " Let me first get rid of this worry of court case. I will get through the court hearing first."
Thus V. H. Thakur proceeded towards Thane and Nanasaheb towards Shirdi. Nanasaheb had wonderful darshan of Sai as always and spent some immensely soul satisfying time with Baba and in Shirdi.
On the other hand the court case in Thane was adjourn. Thus he felt ashamed, and thought it would have been better if he had listened to Nana. He immediately started for Shirdi. On the new land, he wished he could meet Nana, although the chances were dim.
When he reached Shirdi, he found that Nana had already left. Fortunately, he met a person whom he knew. He helped him in getting the darshan of Baba.
Effects of Sai Baba Darshan on V. H. Thakur
As soon as he took darshan of Baba, he was drawn towards Him. He prostrated at Baba's Charan (holy feet). Overcome by spiritual emotions, hair on this body stood on its end. Tears of gratitude filled his eyes and soon started to overflow. He had the most magnificent experience of his life.
Then he stood in awe-full silence in fron of Sai, with all ears on what Sai Baba was saying. The all-knowing Baba with a wonderful smile on His face said,
" What Kannada Appa said to you was like climbing a ghat mounted on a he-buffalo. It is not easy to tread on this path. Here it is unavoidable that one wears his body with extreme hard work."
Listening to these words, Thakur's heart was overjoyed. He knew what Appa said was true and He was standing in front of His Guru, who will guide him, teach him and bring peace of mind and stability of mind.
With great reverence he placed his head on the holy feet of Sai Baba and said, "Maharaj, have mercy on me, this friendless one. Take me under the shelter of your wings. Today I understand the message of Pothi (sacred book) by Nischal Das and have experienced the highest joy. Today I have experienced the teachings of the book. You and you alone, are my saint."
Sai Baba replied, " What Appa told you is perfectly right! But when you put all that in practise, only then your wishes will be fulfilled. "
Truly, Without the grace of Guru, who himself is self-realised, all the study of books is vain. Without the actual experience of what those sacred books (pothis) points to, all the words studied are rendered useless. The grace of the Guru, which enables you for the actual experience is what is needed. Words don't matter much the grace of the Guru does.