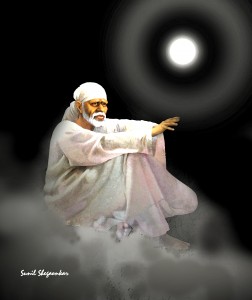 This Short Story Of Shirdi Sai Baba is a part of Dictum of evolved souls on Shirdi Sai.
After Sai Baba reach Shirdi, most of the time He spent in solitude with the divine.
Sai Baba used to spent sometime with the spiritual souls and the pilgrims. One of them was Jankidas Gosavi of the Mahanubhavi sect. Shirdi sai Nath Maharaj would sit with Jankidas and merrily talk with him.
Out of deep love for Sai Nath Maharaj Jankidas would look out for Sai Baba and sit with him, whenever it was possible. Baba had a fondness divine-loving soul. And Jankidas too, had fondness for Sadguru Sai Baba.
In a wonderful book named, "A Comprehensive Life sketch of Shri Shirdi Sai Baba" it is mentioned that, once Jankidas happily declared,
I can see in Him all the pilgrim centres that i have visited. Thou He appears a Fakir externally, He is the Parmathma internally. Shirdi is really blessed to have Him.