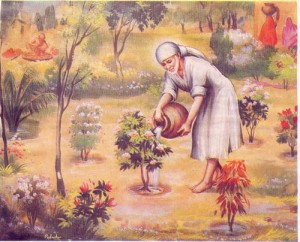 Gangagir a very devoted soul, a householder devotee from Puntamba used to frequently visit Shirdi . He was from Vashnava sect.
In the beginning this devoted soul named Gangagir would get astonished on looking at this young Fakir holding earthen pitchers in both his hands.
This young Fakir named Sai Baba used to regularly water the plants with this unbaked water pitchers. He himself had cultivated a small part of land in to a beautiful garden, in sacred Shirdi.
When he met Sai Baba face to face, he shared his feeling about Sai Baba quite clearly.
He said, "Blessed is this land of Shirdi, to have this jewel among men

"The soil of Shirdi must have accumulated great merits, that He has come here.

"The lord of universe is seen carrying the pitchers on His shoulders.

"Though the world has not recognised now, the fragrance of His divinity will soon spread and felt all over."
Let say with deep love for Baba, "Shri SatChitAnand Sadguru Sai Nath Maharaj Ki Jai."
This short story of Shirdi Sai Baba is a part of : What saints said about Shirdi Sai Baba.